HS-MACA APPLICATION SYSTEM
Post-Baccalaureate Programs
Pre-Dental Post-Bac Program
APPLICATION CHECKLIST AND GUIDELINES
ELIGIBILITY-Pre-Dental Post-Baccalaureate Program
---
To be eligible to apply for the Creighton University School of Dentistry Post-Baccalaureate Program, an applicant must:
Be a U.S. citizen, permanent resident, or foreign national with a visa permitting permanent residence in the United States
Possess a baccalaureate degree from an accredited institution in the United States, which indicates a significant focus on science
Have applied to, and been denied entry into, a dental school
Must not have been accepted previously to an accredited dental school
Must not currently be enrolled in dental school or any other health or health professions degree-granting program
In addition, students are expected to meet the responsibility of the program fees which include tuition fees and living expenses. Financial assistance is available through FAFSA, Creighton University Monthly Electronic Payment Plan (MET) and Alternative Loans. Eligibility applies with the Monthly Electronic Payment Plan (MET).
---
APPLICATION PROCESS
---
Application Requirements Applicants to the Post-Baccalaureate Pre-Dental Program must submit:
The application form for the Post-Baccalaureate Program in Dentistry, including the personal statement, available through the "Apply Now" link
A copy of the applicant's Associated American Dental Schools Application Service (AADSAS) application to dental school
The AADSAS summary sheet from the current AADSAS application cycle, if applicable. This form will list all schools to which the applicant has applied. (Creighton University does not have this form in its possession even for current applicants to Creighton University School of Dentistry.)
Test scores from the Dental Admissions Test (DAT) for all attempts at the DAT not reported in the AADSAS application above. These scores may be copies of reports sent to the applicant.
Transcripts of all academic work not reported on the applicant's AADSAS application (Optional).
Three letters of reference from professors and/or community leaders. Please request that these letters be sent directly to the HS-MACA Office, attn: Mervin Vasser, 2500 California Plaza, Omaha, NE 68178 or e-mail: mervinvasser@creighton.edu and that they address the following:
*Commitment to the study of dentistry *Potential for academic success in the Post-Baccalaureate Program in Dentistry *Evidence of demonstrated empathy and compassion for humankind *Rationale for applicant's lack of success to date in gaining entry into the study of dentistry

Note: Recommendation letters already on file may suffice; however, current letters may shed new light on the applicant's qualifications for this program.




Application Process Details

Notification of 'Complete' file status will be sent to the applicant. After the applicant's file is complete, the Post-Baccalaureate Admissions Subcommittee will select a pool of finalists to be reviewed by the full Post-Baccalaureate Admissions Committee. The Post-Baccalaureate Admissions Committee will conduct interviews with selected applicants in the spring of the matriculating year. Five participants and a list of alternates will be selected. Selected participants will be notified by letter. All documents are to be submitted to the Health Sciences Multicultural and Community Affairs Office (HS-MACA). See contact information above. The deadline for the receipt of all application materials in the HS-MACA Office at the close of business (4:30 p.m. CT) on

January 15, 2019

.​
---
SESSIONS
---
Program Details Diagnostic Summer Session June—July:
Academic skills assessment
Curricular review sessions in Biology, Chemistry, Mathematics and English
Training in study skills, test taking, time management, library resources, personal wellness and perceptional ability
Computer skills training
Academic Year Session
Fall Session: August—December
Spring Session: January—May:
Intensive coursework in Biology, Physics, Chemistry, Mathematics and English (Writing and Analytical Reading)
Kaplan DAT preparation course
Pre-matriculation Summer Session
June—July
Curricular review sessions in Anatomy, Molecular and Cell Biology (Genetics and Biochemistry), Host Defense, Microbiology, Pharmacology, Neurosciences and Academic Excellence
---
SCHOLARSHIPS
---
Applicants to the Post-Baccalaureate Program in Dentistry who wish to be considered for federal student aid will need to file a Free Application for Federal Student Aid (FAFSA). Due to the costs of the program and limited federal loan funds, many students must obtain an alternative loan to help cover the costs of this program. Admitted students will need to provide a copy of the alternative loan approval (or other satisfactory payment arrangement) along with their acceptance letter. In addition, admitted students are eligible for the HS-MACA Post-Baccalaureate Alumni Scholarship.
---
FAQ
---
Q: If my AADSAS application is online with Creighton, do I still need to send all required documents?
A: Yes, you are required to submit the necessary documentation. For further information, please contact the Health Sciences Multicultural and Community Affairs Department at 855.770.2700. Q: How can I apply to this program?
A: An online application will be available here on September 1. Q: Who is eligible for the post-baccalaureate program in dentistry?
A: To be eligible you must have been denied admission to a dentistry school, be disadvantaged either educationally or environmentally, and be either a U.S. citizen or a permanent resident. Q: What does it mean to be an accredited dental school?
A: It means the program is accredited by the Commission on Dental Accreditation. The Commission is a specialized accrediting body recognized by the United States Department of Education. Q: How many recommendation letters are required?
A: Three recommendation letters are required. You may use the letters from your AMCAS application. Q: If I apply and get accepted to the post-baccalaureate program, will I have to withdraw my dental school application?
A: Yes, all dental school applications must be withdrawn by the start of the program. Q: Is your program a career change?
A: No, this is an academic enhancer program. Q: Does the post-baccalaureate program reserve a spot in the Creighton School of Dentistry?
A: Yes, provided you successfully complete the program. Q: Can I postpone my acceptance until next year due to circumstances beyond my control?
A: Unfortunately, there is no deferment for the program. You will have to reapply next year. Q: Does my status meets Creighton's criteria for "disadvantaged," so that I can consider the next application cycle?
A: Disadvantaged is defined as either educationally or environmentally disadvantaged. Did you work while you were in college? Did you attend a rural or inner city high school? If you went to a private school, did it have all the tools necessary for you to be successful in college? Q: Is there an online application to submit with the information or do I mail everything to the school?
A: There is an online application available starting September 1. Q: Could you direct me to additional information about the program?
A: Learn more about the Creighton University School of Dentistry
---
TESTIMONIALS
---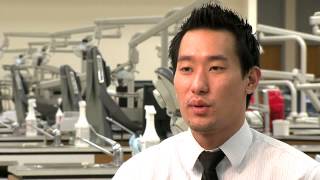 ---
---